Westernport Water believes it is important to invest in environmental and sustainability initiatives
Over the next few months, solar panels will be installed at various Westernport Water sites. The panels are expected to generate 100,689 MWh solar electricity annually.
The water sector is also working together to reduce energy costs and emissions through the newly formed company, Zero Emissions Water (ZEW). It will be able to purchase 20 to 50 per cent of solar power at bulk prices from Kiamal solar farm, cutting costs, and reducing greenhouse emissions by 80,000 tonnes a year.
Project budget
$0.411m
Solar panel installations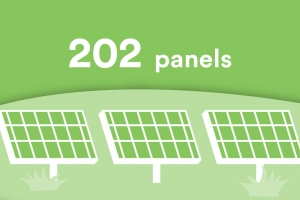 Church St Pump Station (3.0kW, 8 panels)
Newhaven (33kW, 88 panels)
KRWWTP (39.8kW, 106 panels)
How will this impact the community?
By consuming less power, Westernport Water is reducing the amount of toxic fumes released into the environment, which conserves our areas natural resources and protect ecosystems from destruction. Savings generated will enable Westernport Water to keep costs down for customers.
Do you need more information?
Factsheet coming soon