Who are we?
We're locals. We know our community because we are a part of it. We take pride in this local knowledge because it helps us to do good things for our region. In fact, you'll find the key motivator for our employees is the ability to positively contribute to our community. And you're a part of us too.
We are better together
We have a deeply held belief that together we can accomplish far more than individually. We all have a common purpose – to consistently provide cost-effective, safe and reliable products and services, to the communities that we serve, today and tomorrow. As a team, we are proud of what we have already achieved and our future is even more energising.
We're bound together by our values
These are our common beliefs, the things that keep us focused on the end goal even when the going gets tough. They're clean, simple ideas with the power to accomplish great things.
Put simply, our values are care, courage and commitment.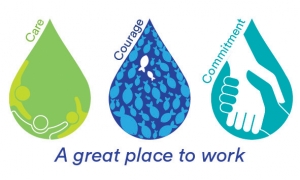 Our commitment to our people
We consider our people as carefully as we do our capital investments. We need to ensure that we are well equipped to meet our goals and expectations of our customers, now and into the future.
We are committed to investing in our people. From higher education to on the job training, we open the doors for development fostering life long satisfying careers.
Diversity and Inclusion Plan 2016-20
Our vision for diversity and inclusion
To be an innovative employer of choice with an actively diverse workforce that enhances our business and the lives of our people and stakeholders. Read our Diversity and Inclusion Plan 2016-20 (3.0 MB)
White Ribbon accredited workplace
The STEM Sisters Program is an initiative of three Gippsland Local Learning and Employment Networks (LLENs) that were created to increase female participation in the fields of Science, Technology, Engineering and Mathematics (STEM).