Westernport Water leads through collaboration and innovation to deliver sustainable water and wastewater services that improve the health and liveability of our community.
The core functions of Westernport Water are to provide drinking water, recycled water, and wastewater services wherever economically, environmentally and socially practicable, to properties and communities throughout its district.
It is acknowledged that Westernport Water provide services on the traditional lands of the Bunurong and Boonwurrung peoples, who played an important role over thousands of years in managing the natural resources on Phillip Island, or Millowl as it is traditionally known. We acknowledge our Traditional Owners as we continue to manage these resources.
Our six key focus areas and initiatives of 2017-18:
Our Customers – Provide products and services that meet our customers' expectations for quality, accessibility and affordability.
Our Business –  Maintain the integrity and value of our business through sound governance and financial management.
Our Assets – Enable the sustainable delivery of products and services to our customers.
Our Community – Be a valued member of the community we serve.
Our Environment – Be an environmentally sustainable organisation.
Our People – Be an innovative organisation with a reputation that is valued by current and prospective employees.
To learn more download the Corporate Plan 2017 – 2022 (2.4 MB).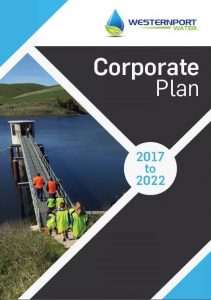 Gippsland working together
A crucial strategy to achieve community and customer benefit; efficiencies; learnings; value and overall improvement is to engage with neighbouring water corporations and key local stakeholders within the Gippsland region.
The Gippsland strategic alliance
The Gippsland Strategic Alliance is a collective established in 2013 comprising of five Gippsland Water Corporations including Westernport Water; East Gippsland Water; Gippsland Water; South Gippsland Water and most recently, Southern Rural Water. The objective of the alliance is to share resources and knowledge; evaluate procurement opportunities, as well as identify efficiencies and savings that will benefit all Gippsland corporations. This work is sanctioned by all Corporations' Boards signing a Memorandum of Understanding (MoU) for a three year term..
What is a water plan?
The purpose of a water plan is to propose a set of expenditure forecasts, service standards, and pricing structures for a five-year period commencing 1 July 2013.
The Water Plan 2013-2018 (2.14 MB) sets the tariffs for Westernport Water's regulated services for the 2013-2018 period for approval by the Essential Services Commission.
The proposals contained in the water plan have been developed to comply with various government department requirements, regulatory instruments and governing legislations. These include:
The Minister for Water
The Treasurer
The regulators establish the obligation and performance requirements of the water businesses. The water plan details how Westernport Water intends to comply with the regulators requirements.
Copies of the water plan are provided to all of the regulators and other stakeholders and is available below or in hard copy from the office.