It was a running success for the Phillip Island team supporting the YAMS Foundation, with all starting members completing the gruelling 41.195km Melbourne Marathon
Abigail Adams of Westernport Water provided an account of the day "The start was awesome, 27,500 runners and a cool still morning. Family and friends were looking on watching from a nearby balcony it was the perfect start.
As we ran down St Kilda Rd, I was surrounded by "Spartans" – guys who have been running the Marathon for decades. Respect for sure.
Speaking of respect – as we neared St Kilda, probably 15kms in, the Winners appeared flying past us heading back up to the "G"!
As we neared the 18km mark along Beaconsfield Pde, what a surprise. Murray Jackson Westernport Water Managing Director and YAMS Foundation Chairman was standing in the middle of the road with a camera, powerade, water and a big cheer. Excellent!
Throughout the race, "Be the turtle not the hare", was going through my head. And that was pretty much what fellow team mate Elaine and I did. Nine km an hour, slow, but I didn't know what I would face after the 32kms as I hadn't run further than that before.
At the 33 km mark my watch said 3hrs and 33 minutes! Cool, my chest started tightening, my body felt a little sore and I thought I would be meeting the old wall shortly. I felt every km after that, it was just a count down and I started looking forward to it being over.
Coming back into the city, loads of people were cheering which felt really good. But the weirdest thing of my whole run started getting me in the last 3km – every time I smiled, it would restrict my breathing.
I was so emotional and elated. So thankful to these strangers wishing us well and the support we had received in donations and sponsorship – all I wanted to do was smile, but I had to make the conscious choice of smiling or breathing! Ok so I chose breathing….
Running into the G was awesome – a great place to finish. I recommend the experience to anyone."
Abi added "We all go through a degree of mental and physical pain. It's not whether you do or don't suffer, that's a given – we all do to some degree. It is what you do with the pain; how you conduct yourself, how you treat others and what you learn that is important."
Unfortunately because of injury one team member Bill Playne did not make it to the starting line. However collectively the team completed 168.8km and raised an overwhelming $5,000.
TEAM YAMS RESULTS
Gary Ferteis      –      3 hrs 28 mins
Jenny Hibble     –      3 hrs 59 mins
Elaine Ferteis    –      4 hrs 40 mins
Abi Adams        –      4 hrs 40 mins
"The teams effort raising over $5000 will go a long way to supporting the research into finding out what causes Neuroblastoma in children. The Foundation is proud of the efforts of the people from Phillip Island area and surrounding communities, and on behalf of the YAMS Foundation I must thank them for their generous support.
We encourage anyone that has not yet finalised their sponsorship pledge to call 1300 720 711 and Westernport Water Customer Service staff will assist with the transaction." said Murray Jackson the Chairman of The YMAS Foundation.
Mr. Jackson added "All donations and funds raised through this initiative will be deposited with the RCH Foundation and distributed under the direction of the Trustees of YAMS Foundation and the Royal Children's Hospital."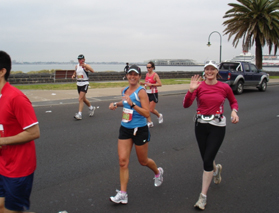 https://www.westernportwater.com.au/wp-content/uploads/2018/06/WW_RGB-300x102.png
0
0
dev
https://www.westernportwater.com.au/wp-content/uploads/2018/06/WW_RGB-300x102.png
dev
2010-10-25 17:10:15
2021-08-23 17:49:53
Marathon success generates $5000 for Charity