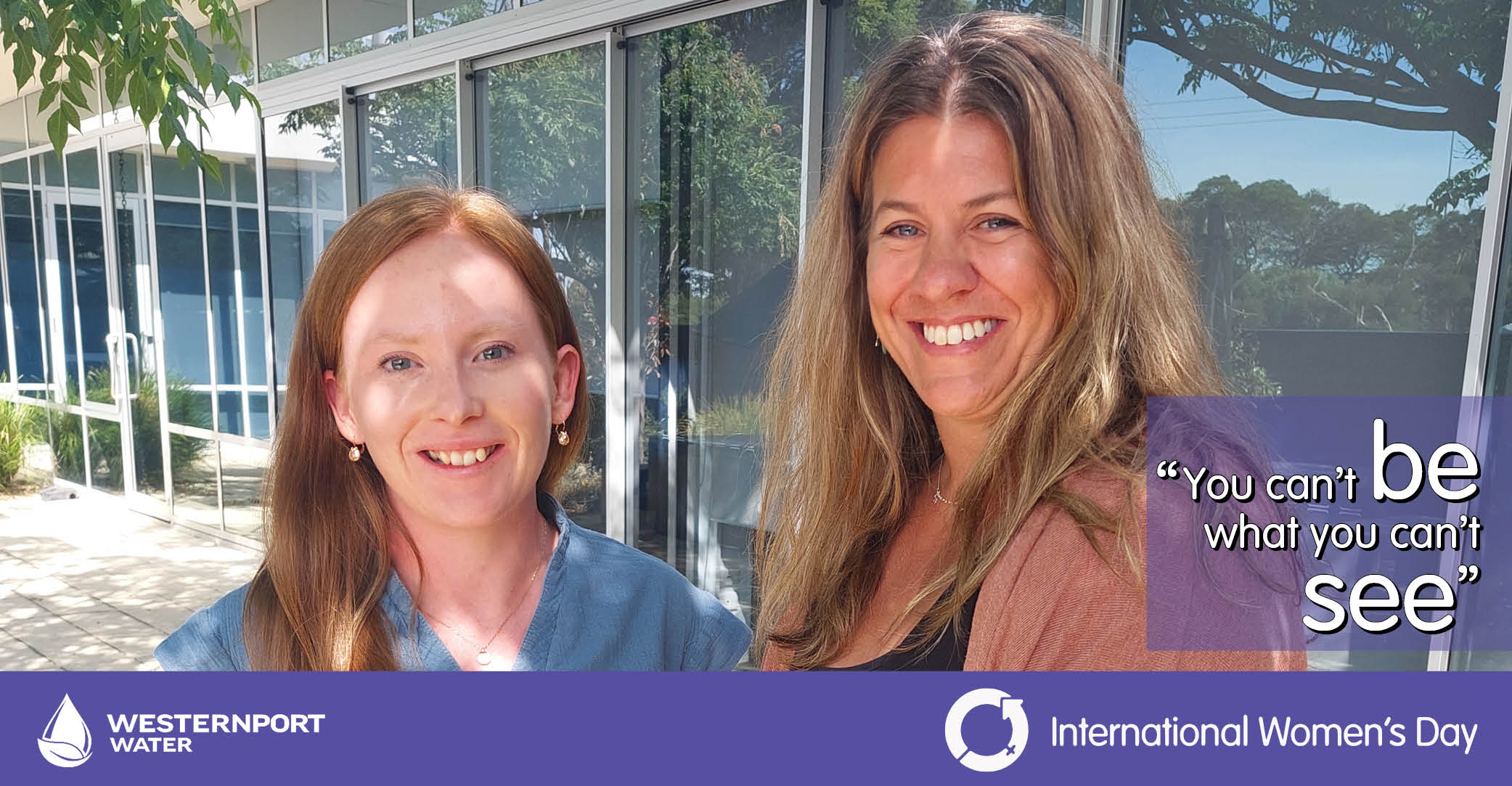 This International Women's Day, we would like to acknowledge two of our female staff working in innovation and STEM (Science, Technology, Engineering and Maths) roles.
Alexandra Martin and Melinda Glew both work in Westernport Water's Assets and Operations Division. Alexandra is our Reliability Engineer, and Melinda works in the climate change, water quality and sustainability field.
As an Environmental Scientist, Melinda is passionate about protecting and improving water, land and biodiversity in our service area. She is responsible for assisting the organisation to reduce its greenhouse gas emissions and adapt to the impacts of climate change.
Melinda says that she loves the variety of her work and collaborating with like-minded and inspiring co-workers. "One day I may be sampling out in the field and investigating changes in the environment, and the next day sitting at my desk developing a strategy. I feel privileged to be working in a collaborative environment where science and engineering disciplines consult, providing great learning experience and knowledge sharing opportunities."
A message Melinda would give to her 12-year-old self is "Learning never stops. As the world and concepts develop, ensure you arm yourself with the tools to keep building on your knowledge, and critically think about information you are presented with."
Alexandra's role is integral for assessing the condition of Westernport Water's assets, providing engineering technical support for the operations and maintenance of our water and wastewater assets, treatment plants, pump stations and pipelines.
"I'm fortunate to be a part of an organisation providing an essential service to the community and being able to make an impact," said Alexandra.
"I think it's important that women can work in whichever field they like and have no barriers in selecting a career that interests them."
"A career in STEM can be incredibly empowering and offers the opportunity for personal growth, career trajectory and job security.
When asked what could be done to increase the number of women working in STEM fields, Alexandra strongly believes that "You can't be what you can't see."
"It's necessary to make women working in STEM visible to the younger generation through outreach programs in schools (before year 11/12 subject selection) to inspire interest and remove some mystique from what STEM is. Once in the workforce, companies supporting women through maternity and genuinely attempting to level the gender indifference at the management level is extremely valuable to make STEM careers attractive to women."
"My message to young girls today would be that you don't have to be the smartest in the class or the best at maths to have a successful career in STEM fields. It's not just reserved for those that get all the school awards and you can still enjoy playing sports and socialising and aspire to a STEM career."
ENDS
https://www.westernportwater.com.au/wp-content/uploads/2018/06/WW_RGB-300x102.png
0
0
knight
https://www.westernportwater.com.au/wp-content/uploads/2018/06/WW_RGB-300x102.png
knight
2023-03-08 13:40:36
2023-11-20 14:04:17
Celebrating female STEM staff on International Women's Day