The report highlights Westernport Water's significant investment in water security and shows the Corporation's commitment to developing local water and wastewater solutions.
Implementation of upgraded corporate systems provided the platform for operational efficiencies, improved service delivery and better water quality in 2011/12.
The Corporation reported a revenue of $22 million and total business expenditure of $19 million, delivering a profit for the year to 30 June 2012 of $3 million.
Releasing Westernport Water's 2012 Annual Report this week, Managing Director Murray Jackson attributed the favourable result to sound financial management and Federal government grant funding of $2.6 million for the Phillip Island Recycled Water Scheme.
Mr Jackson commented "Profits of this magnitude are necessary for future development of water infrastructure. Retained earnings will effectively pay for future improvements such as the Candowie Reservoir upgrade.
"The annual report highlights to customers, Westernport Water's significant investment in water security and shows the Corporation's commitment to providing local water and wastewater solutions to cater for sustainable growth and development," said Mr Jackson.
Performance highlights in the 2012 annual report tabled in the Victorian Parliament on Thursday 13 September were:
The construction and commissioning of the Class A recycled water treatment plant in June 2012 at the Cowes Wastewater Treatment Plant. The new plant is capable of producing 340ML per year of Class A recycled water and will offset the use of drinking water, plus reduce wastewater discharge to ocean. This new water resource will supply new residential areas and commercial businesses along the distribution system from Ventnor to Rhyll. The Class A treatment plant has the capacity for 680ML per year in the future.
Completion and successful installation of a 450mmm diameter high density polyethylene under channel water main beneath the eastern entrance of Western Port between San Remo and Phillip Island. This now provides a secure water supply pipeline to Phillip Island supplementary to the pipeline attached to the underside of the bridge.
Successful transition to a new water treatment process Chloramination, resulted in improved drinking water quality and reduced water quality complaints. The new treatment process has successfully reduced the amount of chemicals required and has enhanced drinking water taste and appearance.
Continued development and integration of corporate systems has provided operational teams with greater understanding of asset performance and reliability. This information is strategically used to develop works programs, and has effectively shifted the focus to preventative rather than reactive maintenance and provides rapid response to customer calls.
According to Mr Jackson, the next 12 months will be focusing on completing the Candowie Reservoir upgrade. "This project will double the storage volume of Candowie from 2263ML to 4463 ML by raising the full supply level three meters. When full this will provide two years of supply and offer greater water security in times of low rainfall."
For further information or to obtain a copy of our 2012 Annual Report please visit
www.westernportwater.com.au
or call Customer Service on 1300 720 711.
Media only contact: Geoff Russell Communications and Media Manager (03)5956 4140.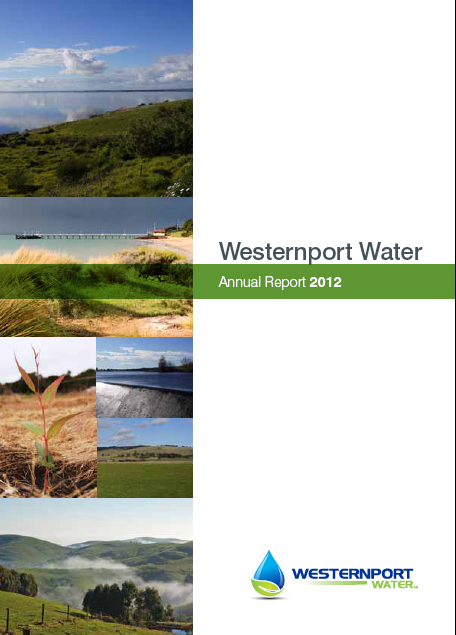 ENDS:
https://www.westernportwater.com.au/wp-content/uploads/2018/06/WW_RGB-300x102.png
0
0
dev
https://www.westernportwater.com.au/wp-content/uploads/2018/06/WW_RGB-300x102.png
dev
2012-09-18 22:16:46
2021-08-23 17:52:25
Westernport Water Annual Report shows a strong financial position