Now available online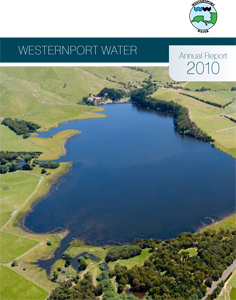 Improved cost controls, infrastructure and management systems paid off for Westernport Water with the release of its annual report showing a modest net profit of AUD$2.5 million for 2009/10.
According to Westernport Water Managing Director, Murray Jackson, the results demonstrate sound decision making, and effective implementation of new business systems put in place to secure current and future water supplies for the Westernport Water region.
"We met all our initial performance targets for the 2009/10 financial year while still delivering value for money and improved services for our customers, and I think our financial results show we succeeded," he said.
"At the same time we improved our sustainability and decreased our environmental footprint improving a number of waste management processes."
Performance standouts in the 2009/10 annual report, tabled in the Victorian Parliament today, include:
·         Water quality improvements dominated works for 2009/10, with the augmentation of the Chloramination trial to Corinella and Kilcunda.
·         Filter upgrades at the Ian Bartlett Purification Plant, valve replacement on the main supply line, and air scouring of the main supply lines have all contributed to improving the overall water quality.
·         2% less water was consumed this year, compared to 2008/09 despite the area experiencing population growth. Westernport Water customers should be congratulated on their commitment to water saving initiatives.
·         The introduction of fluoride was implemented in February 2010, in accordance with the Safe Drinking Water act and a Department of Health (DoH) directive.
·         The Bass River augmentation supply option was given further trial early in 2010. Thanks to consistent rain there was no need to extract water from our Corinella Aquifer bulk entitlement for the 2009/10 year.
·         Continuous improvements to knowledge management business systems – including SCADA and GIS systems to monitor and control the water, wastewater and gas networks are beginning to produce savings and improve response rates.
·         Customers did not experience any periods of water restrictions apart from our permanent water saving measures.
·         Westernport Water was awarded a Federal Government Grant of $2.85Million in June 2010 – the funding is to partly meet the capital cost of upgrading Class B Recycled water facilities, to produce Class A water for reuse. Recycled water funding was made available under the National Water Security Plan for Cities and Towns.
According to Mr Jackson, from 2010/11 to the end of the current Water Plan in June 2013, Westernport Water will be focused on delivering all capital works projects including connection to desalinated water and Melbourne pool water to strengthen security of supply.
The annual report can be found at https://www.westernportwater.com.au/Resources/Formspublications/
Media only contact: Managing Director, Murray Jackson, mobile 0427 336 609
https://www.westernportwater.com.au/wp-content/uploads/2018/06/WW_RGB-300x102.png
0
0
dev
https://www.westernportwater.com.au/wp-content/uploads/2018/06/WW_RGB-300x102.png
dev
2010-09-15 10:22:46
2021-08-23 17:49:27
Sustainable growth shown in Annual Report