Bass Coast Reconciliation Network Joint Media Release
Bass Coast's community has supported reconciliation events in record numbers to commemorate National Sorry Day and celebrate National Reconciliation Week this year with the themes of being grounded in truth for a more positive future.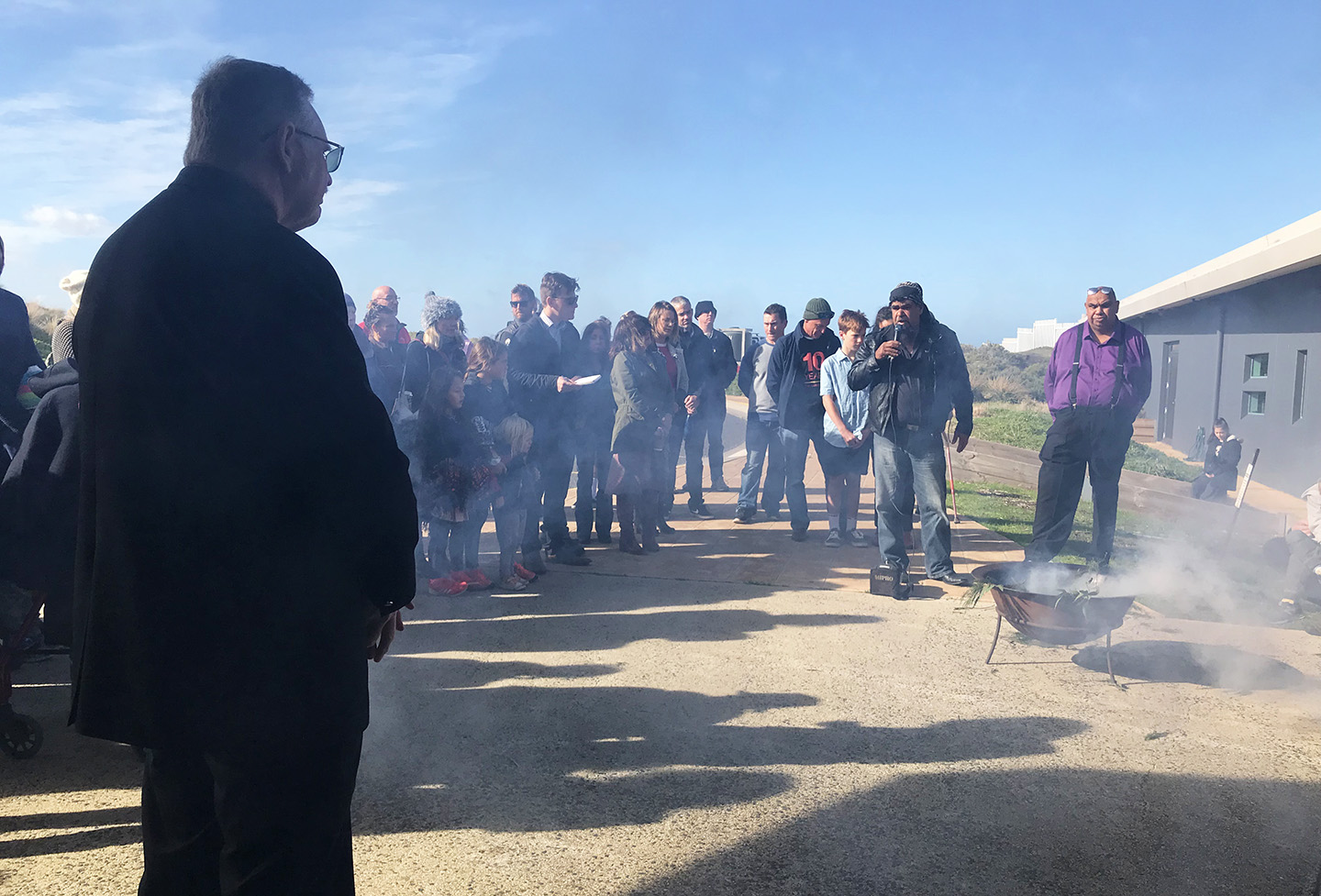 Crowds gather for Sorry Day
Over 150 people attended National Sorry Day on 26 May for a moving Welcome to Country and Smoking Ceremony by Uncle Shane Clarke who reflected on the importance of recognising the hurt and struggle of many Aboriginal and Torres Strait Islander Peoples not only on Sorry Day, but every day. Uncle Kutcha Edwards then gave a thought-provoking presentation and performance reflecting on his own life journey as a member of the Stolen Generation. His words challenged participants to consider new ways of viewing our nation's past and tackling the challenges for reconciliation in the future.
Event MC, Patrice Mahoney also spoke from the heart and asked everyone to commit to learning more about our history and to encourage friends and family to support the Community at next year's Sorry Day event on 26 May.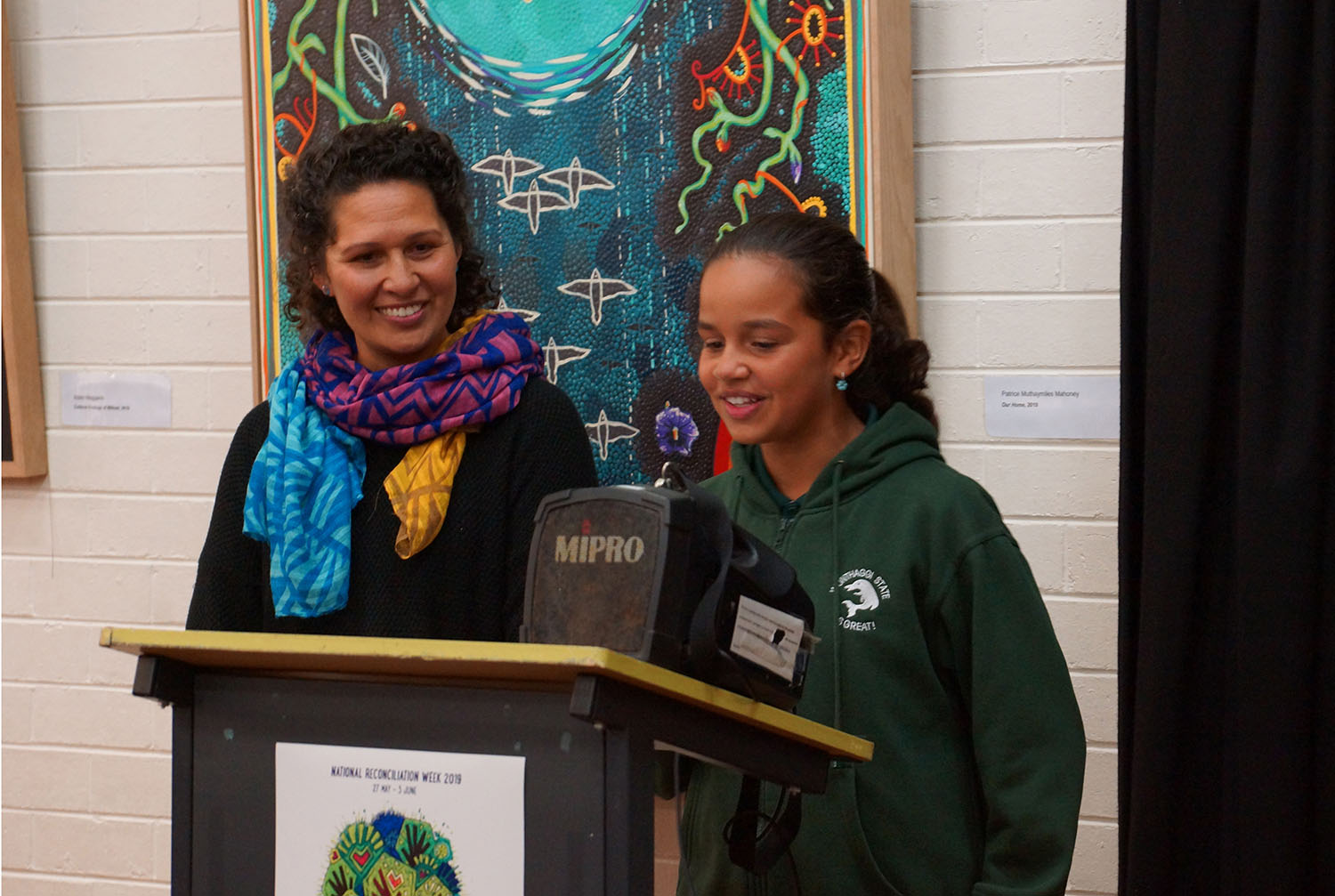 National Reconciliation Week
The following Tuesday, the rain held off and the sun shone briefly as a crowd gathered at the Cowes Cultural Centre for a Welcome To Country, smoking and flag raising ceremony led by Uncle Mic Edwards from Bunurong Land Council.
In her welcome to the crowd, MC Kate Adams from Phillip Island Nature Parks acknowledged everyone in attendance and also those who could not attend on the day.
"We acknowledge the depth, talent and commitment of all members of Bass Coast's Aboriginal and Torres Strait Islander Community as we walk together and work together on our healing journey," said Kate Adams.
"During this special week, we come together with courage and unity to celebrate our relationships and our commitment to furthering respect, recognition and understanding.
This year's theme of Grounded in Truth is especially important as we walk and work together side by side without fear of speaking up or speaking the truths. Truths that need to be shared before we can all move forward. By uniting to face the past together we can heal and create a better future for all."
Uncle Mic Edwards then engaged the crowd with his passionate words. "We don't have words for time, but we have been here for thousands of generations," said Uncle Mic in his welcome.
"We encourage you to participate in reconciliation and think positive. Throw a log on an inner fire and make tomorrow a better day than today."
After the ceremony, the crowd enjoyed a bell ringing performance from Phillip Island Rural Australians for Refugees before moving inside for morning tea and stalls set up by reconciliation network members, Rural Australians for Refugees and Boomerang Bags.
Members of Bass Coast Reconciliation Network including Anthony Egan, Cr. Geoff Ellis and Sam Weston then spoke before the presentation of four reconciliation artworks commissioned by the Network.
"I would like to praise and thank all who have been responsible in setting the very foundations of the Bass Coast Reconciliation Network," said Anthony.
"Reconciliation is not about words, it is about embodying our words through our actions and commitment," said Cr. Geoff Ellis.
"It is about moving forward to create meaningful, respectful and genuine relationships within our communities, coming together, working together and walking together. Truth is at the foundation of this."
The four successful artists Adam Magennis, Patrice Mahoney, Arieta Fergie and Safina Stewart then unveiled their works and each gave a short speech.
Adam Magennis introduced his piece titled Cultural Ecology of Millowl that he described as having influences including graffiti and from Salvador Dali.
Patrice Muthaymiles Mahoney revealed her large, colourful and complex painting Our Home. The piece explores the identity of the lands' and waters' kinship relations, including highlighting their natural beauty. Patrice spoke of all of our connection to the natural environment and how being in it provides us with comfort and inspiration.
The youngest artist, ten-year-old Torres Strait Islander Arieta Fergie attended the launch supported by her school principal, family and fellow students. Arieta gave a powerful address about her work titled We Are Held Together.
"My work centres around the Creator [who] created the Earth to sustain and support us. This is so that we can in turn support and sustain the Earth," said Arietta.
Her mother, Safina Stewart, proudly unveiled her vivid piece titled 'I Am Because We Are' which explores the theme of the individual's identity being bound up in the identity of the community as a whole.
Safina also reflected on the positivity in the room. "The wave we are catching now is powerful and we all have to trust each other," said Safina.
The artworks will support the work of Bass Coast Reconciliation Network and will next be on display in the NAIDOC Week Art Exhibition in Inverloch from 5-28 July.
Events were jointly organised and presented by Bass Coast Reconciliation Network comprised of: Bass Coast Shire Council, Westernport Water, Phillip Island Nature Parks, Bass Coast Health, Bunurong Land Council Aboriginal Corporation, Bass Coast South Gippsland Reconciliation Group and Aboriginal and Torres Strait Islander Community members.
Network Chair, Geoff Russell from Westernport Water, said he was moved by the events and encouraged by the growing community support represented by increased attendance.
"We united in truth to talk about our past and had some challenging discussions, learnt a lot and have grown as a community in support of each other," said Geoff Russell.
For more information: www.basscoast.vic.gov.au/reconciliation
#NRW2019 #GroundedinTruth and #WalkTogether2019.
To learn more about reconciliation in workplaces across Australia, please visit www.reconciliation.org.au
ENDS
https://www.westernportwater.com.au/wp-content/uploads/2019/05/NRW-Smoking-Ceremony-2-web.jpg
996
1500
Geoff Russell
https://www.westernportwater.com.au/wp-content/uploads/2018/06/WW_RGB-300x102.png
Geoff Russell
2019-05-31 11:35:33
2021-02-08 10:31:50
Reconciliation is Grounded in Truth