Westernport Water has provided the community with a convenient way to fill up their water bottles, launching three custom drinking stations in San Remo and Cowes.
The drinking stations have a fountain for use as well as refill points that allow visitors to easily top up their water bottles free of charge. Two stations feature a dog bowl built into the base of the fountain, giving pet owners the ability to give their thirsty canine companions a drink while out walking.
One drinking station has been installed at Erehwon Point in Cowes while the other two are located in the San Remo Lions Park and San Remo Foreshore area.
According to Murray Jackson, Westernport Water's Managing Director, the drinking stations are a great addition to some of our most popular attractions.
"We are pleased to contribute to the community by providing drinking stations for people to enjoy."
"Additionally, by drawing water directly from the local drinking supply, people can reduce the negative effect that they may have on the environment from purchasing bottled water," he said.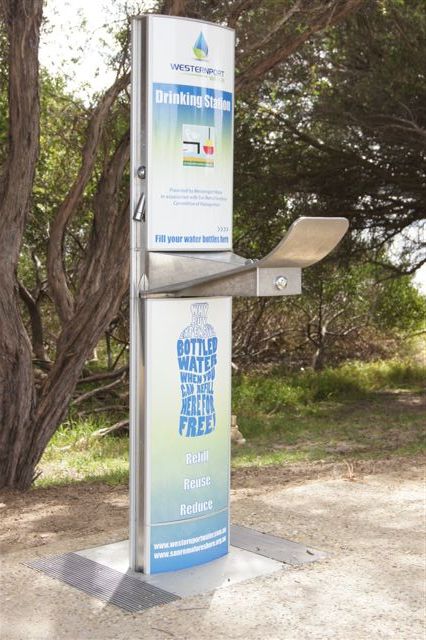 Thanks to Bass Coast Shire Council and San Remo Foreshore Committee for their contribution and support to make this possible.
Pictured: The drinking station installed at the San Remo Foreshore area
https://www.westernportwater.com.au/wp-content/uploads/2018/06/WW_RGB-300x102.png
0
0
dev
https://www.westernportwater.com.au/wp-content/uploads/2018/06/WW_RGB-300x102.png
dev
2011-10-13 22:54:28
2021-08-23 17:51:26
New drinking stations installed