National Water Week Poster competition student finalists and recent presentation to San Remo Primary School and students
A theme that was echoed in the artwork presented by local primary school students in the lead up to National Water Week.
The children's creative masterpieces presented this year reflected many water related issues that are important to them.
Westernport Water's Managing Director Murray Jackson said "It's great to see the messages are getting through to the children, our future leaders".
"Westernport Water received 169 entries, a fantastic effort from the children and schools in the district".
Westernport Water staff shortlisted 14 local finalists over four categories, based on how well the posters conveyed water related issues, attractiveness, colour, use of art materials, originality of design and innovation.
Local finalist's who will receive a water wise gift pack
Grade 5&6 – Bianca Neal, Aisha Hermanto, Indi Raos & Taylor Williams
Grade 3&4 – Nell Chaston, Milli Russell, Amelia Owens & Eliza Neal.
Grade 1&2 – Evie Ferteis, Mason Vanderkolk Jacinta Crow.
Grade Prep – Jessica Hall, Cody Trewavis, Zoe Stevens.
"It's a credit to the San Remo Primary School teachers and students for the fantastic effort this year, becoming finalists in the Victorian wide competition" Mr. Jackson said.
Victorian Water Industry Association CEO Steve Bird made the journey to San Remo to present the Victorian winner of the grade 5&6 category to Aisha Hermanto.
Mr Bird said "It's fabulous to get out and visit the schools and see the passion and enthusiasm on the faces of the Children. Aisha's poster was nominated 1st in the state. It was designed with an original concept featuring the world in a bowl that was not full – combined with a strong message to "Conserve Water for the Future" a concept that may be used in future marketing".
On behalf of Vic Water and all Victorian Water Corporations Mr. Bird presented Aisha with a new I pod and a replica of her poster converted into a jigsaw puzzle along with a water wise pack to take home for the rest of the family.
Mr. Jackson commented "I was very pleased to present San Remo Primary with two custom made color bond gardens as a reward for their efforts in this years competition. We are encouraged by the understanding and creativity that students exhibit in dealing with the scarcity of water"
Karen Bowker San Remo Principal commented "We are very proud of our children's achievements in the Poster Competition for Water Week.  Being recognised one of the top school's in Victoria with 10 out of the 14 local finalists is a huge achievement but also shows our commitment to water conservation and looking after our environment.
Winning two planter boxes was a huge surprise and they will be used with our garden program. On behalf of the children I would like to thank Westernport Water for the garden boxes."
"Aisha's achievement of having the best poster in the state is a credit to her.  Her poster depicting the world with water flowing into it is an interesting concept and shows her appreciation of the importance of looking after the water for generations to come. We are very proud of her and congratulate her on her success".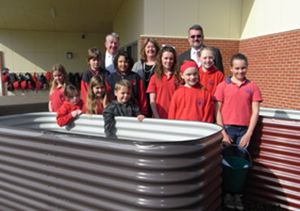 Pictured Left: San Remo local finalists, with Westernport Water CEO Murray Jackson, San Remo Primary Principal Karen Bowker and Steve Bird CEO Victorian Water Industry Association.  Right: Mr Steve Bird & Aisha Hermanto from San Remo Primary School receiving the 1st prize award for the Victorian grade 5 & 6 poster competition.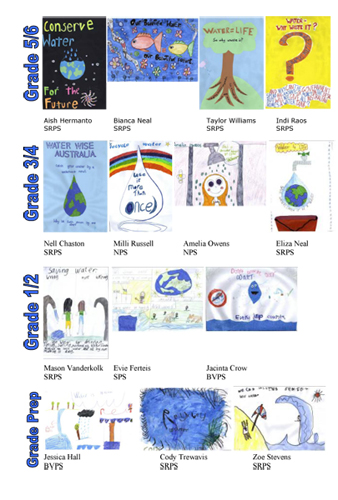 https://www.westernportwater.com.au/wp-content/uploads/2018/06/WW_RGB-300x102.png
0
0
dev
https://www.westernportwater.com.au/wp-content/uploads/2018/06/WW_RGB-300x102.png
dev
2010-10-20 17:11:34
2021-08-23 17:49:51
Many Sources, Many Uses, Everyone's Responsibility