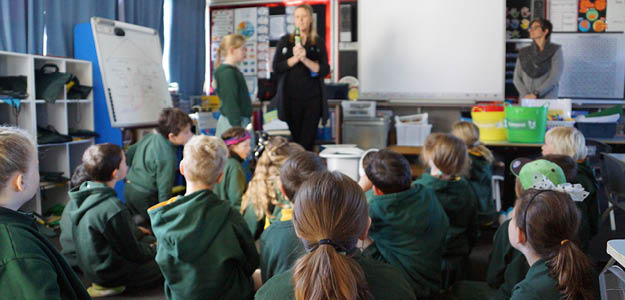 When it comes to pouring things down the drain, or flushing them down the toilet, it's quite easy to become complacent when you don't see where it ends up. Unfortunately for some, it's a case of out of sight, out of mind.
As part of the lead up to National Water Week 2017 (Oct 15 – 21), Grade 1 and 2 students from Cowes Primary School recently participated in class room activities run by staff from Westernport Water. Students learnt about how important it is to be mindful of what you put down the drain and flush down the toilet to ensure we protect our planet.
Westernport Water's Communication and Education Officer, Katrina Knight, led eight separate classes across two days, teaching students about where wastewater is produced in the home, the role that Westernport Water plays in our community and the types of materials that can and can't go down the drain.
"Sewer blockages are costly to clean up and pose a risk to the environment and waterways. That's why it's so important that only the 'Three Ps' – Pee, Poo and (loo) Paper, should be flushed down the toilet," said Katrina.
"Food scraps, fats, oils and grease can also contribute to blockages, and should be scraped into the appropriate bins before you wash your dishes," said Katrina.
However, the major concern of late has been the marketing of 'flushable' wipes. These wipes, along with other bathroom products such as cotton buds and makeup removers, have significantly increased the amount of sewer blockages right around the world.
"Just because something says it is flushable, doesn't mean that you should flush it. Just as the Grade 1s and 2s learnt today, a mobile phone is flushable but it doesn't mean that you should do it," said Katrina.
"Today we had some fun with the students by having them reach into our 'educational toilet' and pull out common things that staff at our wastewater treatment plants have to deal with when treating our wastewater.
Rod McKenzie, Assistant Principal of Cowes Primary School, said the kids loved the educational experience that Westernport Water provided.
"Our students thoroughly enjoyed the fun and interactive learning experiences involving the toilet. The learning they gained from Westernport Water throughout the workshop will assist each of them to make environmentally friendly choices in the future," said Mr McKenzie.
If your school or community group would like to find out more about the educational options Westernport Water offers, please contact Katrina Knight on 1300 720 711.
https://www.westernportwater.com.au/wp-content/uploads/2017/09/3Ps-featured.jpg
125
181
Tim Scholtes
https://www.westernportwater.com.au/wp-content/uploads/2018/06/WW_RGB-300x102.png
Tim Scholtes
2017-09-04 12:04:20
2021-08-23 17:55:05
Kids Learn About The 3P's