Breaking records! Stephen Forster recognised for 35 years of service
These days, it's rare to find an employee who has clocked up longer than 10 or even 20 years service with the one organisation.
However, this year Westernport Water celebrates an employee record of 35 years service. Stephen Forster has now been with Westernport Water since 1975.
Stephen was recently recognised by his colleagues at Westernport Water for his contribution to the local region, and his dedication to the water industry.
Another long standing employee Peter Brown commented "he is very loyal and always on time, he is someone you can count on and he has never been late in 35years".
At the celebration Managing Director of Westernport Water Mr Murray Jackson presented Stephen with a service award commenting. "It's fantastic that we can celebrate the long and full careers of employees at Westernport Water and this one breaks all the records."
Stephen began work with the organisation at the age of thirty, when the Corporation was known as Westernport Water Trust. There were only 6 staff members two indoor and four outdoor. "Back then we had an office above Chino's, no mobile phones or UHF radio's and the boss had to drive into the field if he wanted to talk to you." He said.
Stephen says he "has watched the area change immensely over the years, however the greatest challenges have been technology and communication."  I'm looking forward to the new Geographic Information System (GIS) so I don't have to dig so many holes."
"Stephen has been involved with providing a quality service to customers in Westernport Water for decades, but I've only had the pleasure of working with him for seven years said Field Maintenance Supervisor Kevin Donahoo, Steve's way with customers is invaluable, this is evident in the amount of compliments I receive" he said.
Jackson commented "recognising Stephen for his service with Westernport Water shows the commitment of its employees,  and on behalf of management and staff we wish him all the best for the years ahead."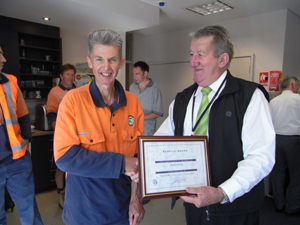 https://www.westernportwater.com.au/wp-content/uploads/2018/06/WW_RGB-300x102.png
0
0
dev
https://www.westernportwater.com.au/wp-content/uploads/2018/06/WW_RGB-300x102.png
dev
2010-10-04 17:15:17
2021-08-23 17:49:27
35 Years A Service Milestone