Starting Prep is always an exciting time, but this year it was made even more exciting with a gift from Westernport Water.
Every new Prep student at Cowes Primary School, Newhaven Primary School, San Remo Primary School, Bass Valley Primary School and Newhaven College received one of Westernport Water's free reusable water bottles to ensure they would stay hydrated throughout their busy school days.
Westernport Water's Communication and Education Officer Katrina Knight, introduced the Prep Water Bottle Initiative at the schools this year as part of the ongoing Choose Tap campaign.
"Our Choose Tap campaign aims to educate our community about the health, environmental and economic benefits of drinking tap water. This year we are focusing on partnering with local schools to encourage children and parents to consider these benefits and drink more tap water" Katrina said.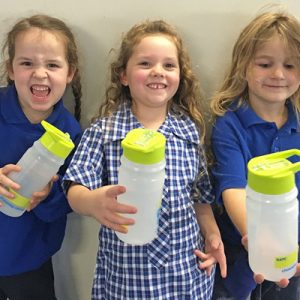 "We know that only a 2% drop in body water can cause a 13% decrease in concentration, so keeping kids hydrated throughout the day is imperative for their learning and overall health. By giving the new Prep students a free Choose Tap drink bottle to keep in their classroom or school bag, we hope to give them the best start to school possible" said Katrina.
Cowes Primary School Prep teacher Kylie Carlson said "The bottles have been appreciated by both the children and their families. The students love filling their bottles up and drinking water at fruit break, recess and lunch times."
Bree Rutherford, Acting Principal of Bass Valley Primary School, is also grateful for Westernport Water's new Prep Water Bottle Initiative, stating "What an excellent way to make sure all the students can stay hydrated throughout the day!"
Newhaven Primary School students and teachers have also enjoyed receiving the bottles. Prep/Grade 1 teacher Sigrid Tucker shared, "We encourage all our kids to have their bottles on the table during class and to keep refilling them during the day. It's great to see a healthy habit forming.
Karen Bowker, Principal of San Remo Primary School stated "We are very appreciative of Westernport Water and their donation of water bottles to our new Prep students. We love the fact that their campaign reinforces our practice of encouraging our children to drink water throughout the day and during our scheduled 'brain breaks'. The bottles are the perfect size too. Thanks Westernport Water!"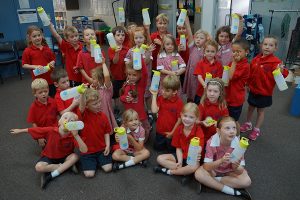 Westernport Water's Managing Director, Peter Quigley further supported the initiative, stating "Tap water is good for your health, it's environmentally friendly and much cheaper than the bottled alternative. With 16% of Gippsland adults now consuming sugary drinks on a daily basis and over 25% of Australian children being either overweight or obese, it's imperative we get in early to educate and changeunhealthy habits to benefit long term well-being. This new initiative as part of our Choose Tap campaign is another great example of how we are adding value to our community and customers."
Don't forget that water refill stations have been installed in public spaces in the Westernport Water service area so that adults, children and pets have access to free drinking water where they need it most.
To find a Water Refill Station near you, download the Choose Tap app on your phone, or visit the Choose Tap page.
https://www.westernportwater.com.au/wp-content/uploads/2017/02/Choose-Tap-web3.jpg
124
180
Tim Scholtes
https://www.westernportwater.com.au/wp-content/uploads/2018/06/WW_RGB-300x102.png
Tim Scholtes
2017-02-27 13:07:44
2021-08-23 17:55:04
Kids Are Choosing Tap