Held annually across Australia, National Water Week aims to assist the community to understand and take action to protect and conserve our precious water resources and habitats.
This year, National Water Week runs from 15 – 21 October 2017, and the theme is "Water – the Heart of our Culture", emphasising water related issues which are important and relevant to our local area.
To learn more about National Water Week, click on the link to go to the Australian Water Association's National Water Week page.
NWW – Annual Poster Competition
Westernport Water marks NWW each year by running a Poster Competition for local Primary Schools within our service area. Each year, Primary School students are invited to submit a poster depicting the year's National Water Week theme. This year's theme is "Water – The Heart of our Culture".
2017 Poster Competition
The National Water Week poster competition for 2017 is now open!
See the competition information flyer and entry form below for all terms and conditions.
2017 NWW – Flyer
2017 NWW – Poster Competition Entry Form
Entries must reach Westernport Water by: Friday 1st September 2017, and have a completed entry form attached to the back of the poster.
2017 Prizes
Local Prizes (first round competition for local students)
First and Runner up prizes will be awarded for each age category
(Prep, Grade 1-2, Grade 3-4 and Grade 5-6).
State Prizes
There are also state prizes up for grabs. Winners from Westernport Water's competition will be submitted to state judging.
State prizes are awarded to both the winning students AND their school!
$500 cash for the first place student recipients in each of the four categories
$250 cash for the second place student recipients in each of the four categories
$300 for first place student's school
$150 for second place student's school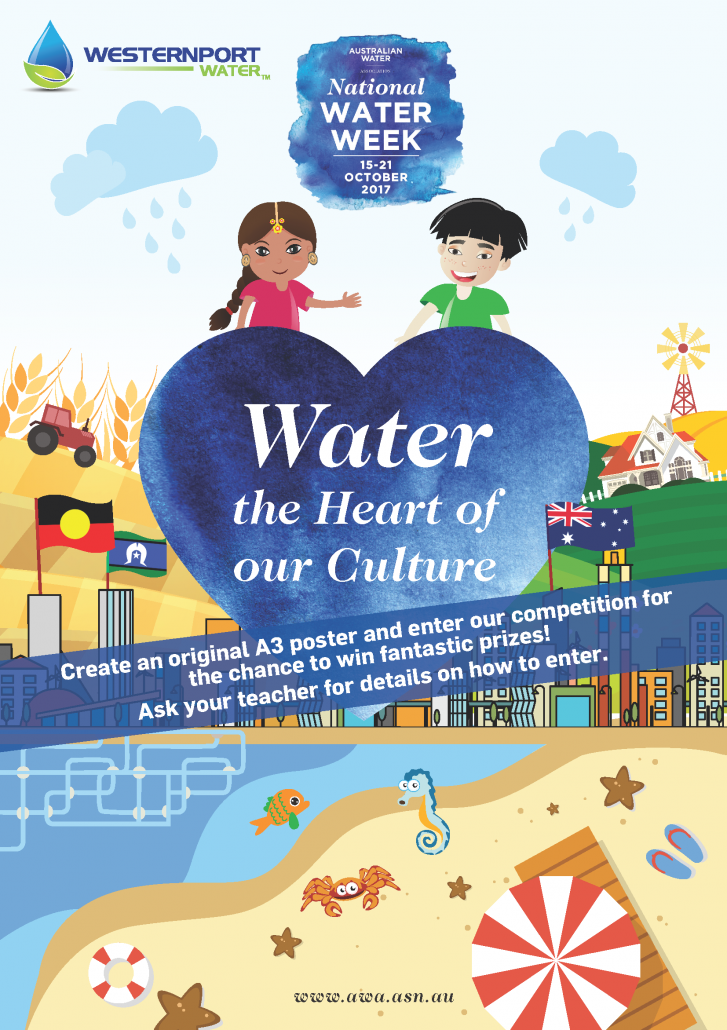 This year, Westernport Water will again offer FREE guided tours of our facilities to local schools, to learn how water is used in our community. Students will have the option to visit Candowie Reservoir, the Cowes Waste Water & Recycled Water Treatment Plant, and Phillip Island Community Orchard.
Alternatively we can come to your school or community group for an incursion!
Click on the link to go to our Incursions and Excursions page to learn more about what we can offer your school or community group.
Contact info…
For more detailed information, or to make a booking for our Education Tours (excursions and incursions), please click on the link to our School Excursion webpage.
If you have any questions about National Water Week events or the poster competition, please email or call our Communications team on:
Email: communications@westernportwater.com.au
Ph: 1300 720 711