Let's Talk is our community engagement campaign designed to help us understand customer and community perceptions, and open up an ongoing discussion around the quality and nature of our water and wastewater services.
Your insights will inform future plans and projects, enabling us to provide customers with the services they want and are prepared to pay for.
Whenever you see our "Let's Talk" logo, we invite you to get involved and provide your valuable feedback. This will ensure you have a strong say in shaping the services we provide. We currently have a number of campaigns and projects underway that you are able to provide feedback and comment on. These include:
• Pricing Proposal 2018-23
• Urban Water Strategy
• Climate Change Strategy; and a
• Reconciliation Action Plan
Pricing Submission workshops – Stage Two of engagement
Westernport Water sought expressions of interest from customers to contribute to an open discussion on prices and tariff options guaranteed service levels, major projects, drinking water quality, recycled water and our response to climate change.
These workshop discussions are the second stage of our engagement with customers and will ultimately help shape the future pricing direction of water and wastewater in the region.
The workshop details are;
Wed 10 May – Phillip Island RSL, Cowes 10am – 1pm (Child minding available) (Session completed)
Wed 10 May – Phillip Island RSL, Cowes 6pm – 9pm (Session completed)
Wed 17 May – Silverwater Resort, San Remo 6pm – 9pm (Session completed)
Each participant receives a complimentary meal and a $50 Bill Credit or $50 VISA Debit Card.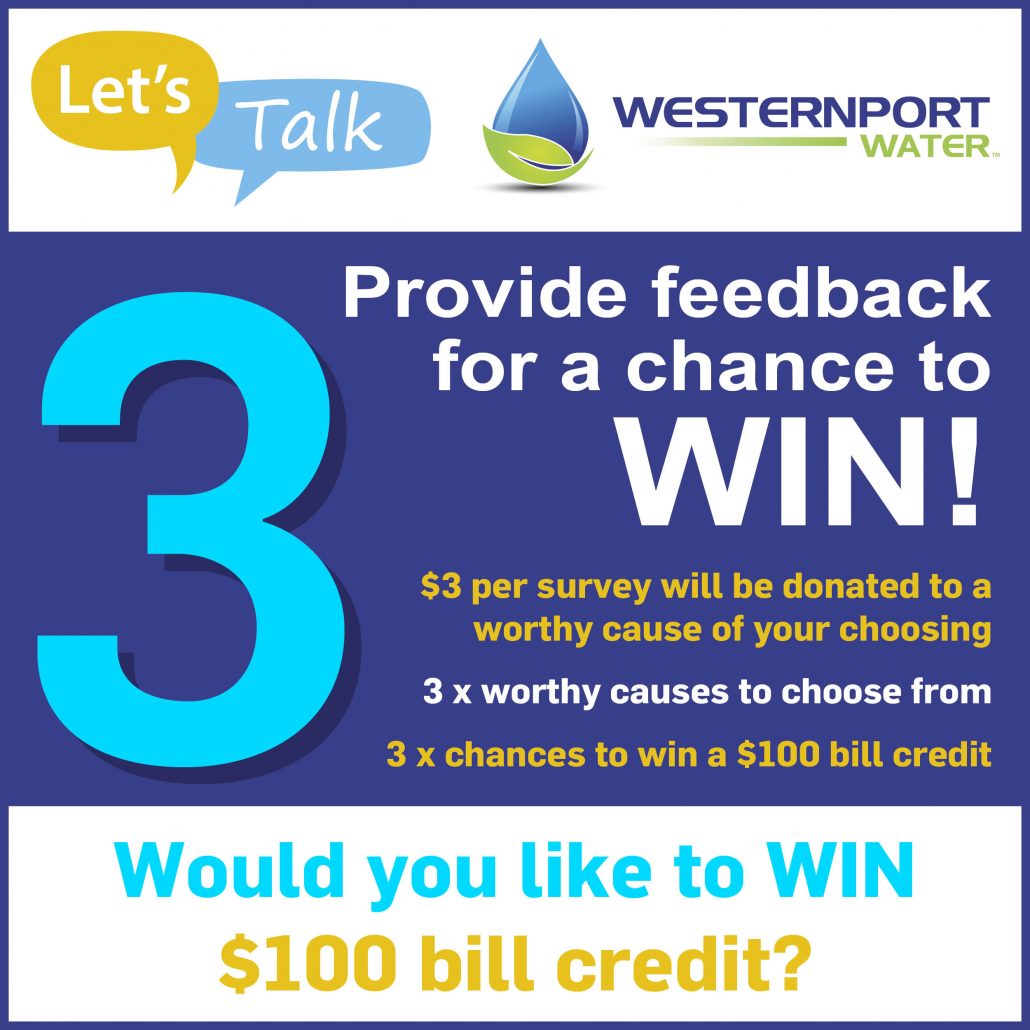 Congratulations to the following winners for January, February and March!
January – Jenny Ballard
February – Jacinta Sheehan
March – Dave Symonds
Terms & Conditions:
One entry per person. Entrants must be a customer of Westernport Water. Entrants must be 18yrs and older. Entrants must have completed the official online registration form on our Let's Talk website and completed the online Pricing Submission survey to be eligible. Winners will be drawn at the end of January, February & March 2017 at Westernport Water's office in Newhaven. Winners will be notified by email or phone and announced on Westernport Water's social media channels. Westernport Water employees and their immediate family, are not eligible to win the $100 bill credit.