We might be the smallest Water Corporation in Victoria, but that doesn't mean we're short of opportunity. By understanding our future needs, we can plan ahead to recruit the right people with the right skills so that our service delivery is always first class.
We take pride in making a conscious effort to create jobs for the next generation in the Water industry. With VCAL placements, University placements, Scholarships and Traineeships, there's always a way in.
Together with this, we offer a range of professional positions in the fields of science, accounting, customer service, engineering, financial management, human resources, information technology, marketing, communications and more.
We are lucky to be able to work with such a diverse range of talented employees every day. To become part of the team, take a look at the opportunities currently on offer.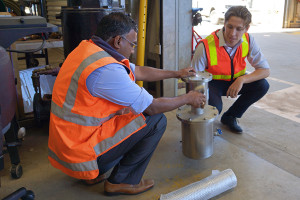 See what school placements and university scholarships funded by Westernport Water are available… Read more
With the growing need to build skills in water industry operations, we offer this 2 year traineeship to students finishing their VCE… Read more